Spanish banks' bad loans 9.3 pct of total credit in October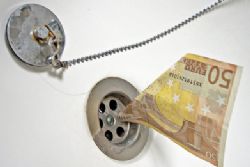 The Spanish Central Bank yesterday reported how bad debts held by the country's various banking institutions came to 9.3% of total credit by the end of October.
Officials also said how questionable loans remained stable at EU117.8 Bln in October while total credit fell EU7.3 Bln from a month earlier to EU1.270 Trillion.
Spanish banks' bad loans stood at 9.2% in September.
Recommended Reading :
* Spain makes early repayment of EU1 Bln loan : European Stability Mechanism
* Spain's bad loans ration down slightly at 9.44% in June