Terror threat diverts flight from Spain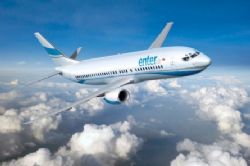 A flight by budget Airline Enter Air from Las Palmas to Warsaw was forced to make an Emergency landing yesterday due a bomb threat.
The Boeing 737 carrying 160 passengers was diverted to Prague Ruzyne airport, where Police detained a Polish male who had made threats of having a bomb around an hour into the flight.
The Czech Interior Minister confirmed that whilst both the Airplane and Airport had been safely evacuated, but made no comment on whether any explosive device had been found.
However, the Minister later tweeted that the event : "Does not look like a terrorist attack."
Recommended Reading :
* Madrid bans large vehicles from center over fears of a terrorist attack
* Arrest after man attempts to hail plane on Spanish runway