Brexit talks with Britain "Will be as part of EU" : Rajoy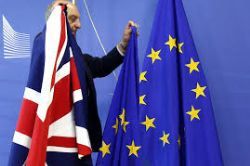 Any negotiations between Spain and Britain over Britons' exit from the EU will be done as part of the EU bloc of 27 countries, PM Mariano Rajoy said on Friday.
Asked at a news conference whether Spain had any conditions going into Brexit talks next year, Rajoy said: "The only red line is that we are 27, we need to negotiate all together and we will negotiate a common position as the EU."
Extricating Britain from the EU opens up several thorny fronts with Spain, which said shortly after the June 23 referendum that it would seek joint sovereignty of Gibraltar, a British territory on its southern coast.
The Spanish government, which faces a separatist challenge in the northeastern Catalonia region, has also sought to quash suggestions by Scotland it could seek a different deal with the EU from the rest of Britain.
Spain is also home to the largest population of British people living abroad in the EU, many of them pensioners who have retired to coastal resorts.
Recommended Reading :
* Britons in Spain fret over healthcare may come after Brexit
* Brexit protesters tell May 'Get on with EU divorce'