Spain's Castellon Airport for sale again ?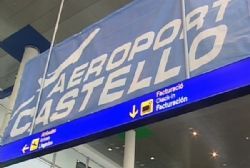 SNC-Lavalin - the Manager of Castellon Airport - has sold its operations in France and exited the airport management and maintenance business with the sale of a further 19 regional airports.
The Canadian engineering and construction company announced that it has signed and closed an agreement to sell its ongoing activities in France and in Monaco to Ciclad and Impact Holding for a nominal amount. The price will be disclosed in March with the release of its quarterly results.
The airports are located in smaller French cities such as Reims, Dijon, Toulouse and Tours, along with the Caribbean island of Saint Martin and the French territory of Mayotte in the Indian Ocean.
At this stage it is believed that Spain's Castellon Airport will be included in the offering.
The sale is part of the company's efforts to improve its profitability by focusing on its four core business sectors: oil and gas, mining and metallurgy, infrastructure and power.
After little more than 12 months of managing and operating Castellon Airport, and with 2016 passenger numbers standing at a respectable 120,000, it can only be hoped that this change will not be anything other than a minor setback.
Watch this space !
Read further Castellon Airport news by clicking the link >> HERE <<.