May's Brexit Plans Hit Turbulence as U.K. Envoy to EU Quits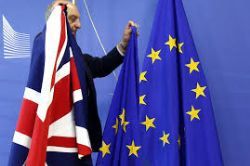 The U.K.'s ambassador to the EU unexpectedly resigned, adding to confusion over Prime Minister Theresa May's Brexit planning.
Ivan Rogers, who was appointed by May's predecessor, David Cameron, and was a key figure in the attempt to renegotiate Britain's relationship with the EU before last June's referendum, announced on Tuesday afternoon that he would leave his post early, the foreign office in London said. He had been due to step down in November of this year and will now leave in mid-January.
The resignation of the U.K.'s chief envoy to Brussels deprives May of one of her most experienced EU operatives as she prepares to trigger two years of Brexit negotiations by the end of March. Prior to his role as ambassador, which he took up in November 2013, Rogers served in the 1990s as chief of staff to the then-European Commission Vice President Leon Brittan.
The pound fell as much as 0.6% to $1.22 on Tuesday, the lowest since October. Sterling was down 0.4% as of 3:51 p.m. in London.
"Ivan Rogers' resignation makes a good deal on Brexit less likely," Charles Grant, head of the London-based Centre for European Reform, said on Twitter, adding that Rogers was one of very few people at the top of British government who understands the EU.
'Body Blow'
His departure hints at the pressures of representing the U.K. in an arena increasingly viewed in sections of the British media as enemy territory. Last month, Rogers was criticized for remarks that were attributed to him saying that it could take 10 years to negotiate a free-trade deal with the EU and that even then, the European Parliament could scupper it. May has said that a final deal could be reached by September 2018.
Nick Clegg, the pro-EU former deputy PM, said his departure was a "body blow" to the government's Brexit plans, whereas Brexit campaigners welcomed the move.
"This is a man who claimed it could take up to 10 years to agree a Brexit deal - he is far too much of a pessimist and yet another of the establishment's pro-EU Old Guard," Leave. EU chairman Arron Banks said in an e-mailed statement. "It's time now for someone who is optimistic about the future that lies ahead for Brexit Britain. Enough talk, we need to get on with getting out."
Treasury Post
Rogers, who was Cameron's adviser on Europe and global issues before becoming Britain's permanent representative in Brussels, has worked for Barclays Plc and Citigroup Inc. Earlier, having gained experience in the workings of the EU as head of the cabinet of British EU Commissioner Leon Brittan between 1996-1999, Rogers worked for the Treasury in London until moving into the private sector in 2006, before Cameron brought him back into diplomatic circles.
Although often characterized by the British press as a EU "fanatic" who was pessimistic about the Brexit negotiations, Rogers' views in private were far more nuanced. Even after the referendum, he maintained good contacts with his counterparts from other EU countries, enabling him to give May and the rest of the government an indication of where the obstacles in the forthcoming talks were emerging.
"Really very bad news indeed, we cannot afford to lose people of this calibre and experience," Tory lawmaker Nicholas Soames, grandson of wartime leader Winston Churchill, said in a posting on Twitter.
Recommended Reading :
* Brexit protestors tell May 'Get on with EU divorce'
* 30% of UK firms plan to cut investment in Spain due to Brexit