Spain's PP : Brexit "an Opportunity"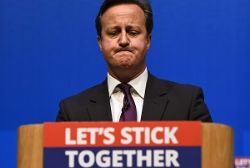 Brexit has been described as "an opportunity" by Spain's ruling Partido Popular, in a paper on foreign policy presented ahead of its national party conference next month.
The PP's vice-secretary for media and coordinator of the document, Pablo Casado, said Spain could take up the position previously held by the UK, and become the United States' preferred partner in Europe. The paper adds Brexit has special significance for Spain's claim to Gibraltar; restating the Spanish proposal of joint sovereignty for the Rock which would, it says, allow its inhabitants to retain EU citizenship, thus "benefitting the whole area".
Earlier this week, the Spanish prime minister, Mariano Rajoy, omitted any mention of Gibraltar when setting out Spain's "red lines" on Brexit at a press conference in Madrid.
Recommended Reading :
* May's Brexit plans hit turbulence as UK envoy to EU quits
* Gibraltar will leave no stone unturned in Brexit talks/a>