Spain DGT report on 2016 road fatalities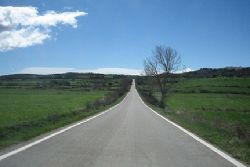 Spain's Dirrecion Genera de Trafico (DGT) has produced their annual report for 2016, which details a total of 1,038 fatal accidents on the country's roads.
These accidents resulted in some 1,160 death and a further 5,067 casualties needing hospital treatment.
These figures represent increases of 1.4% (+15) in fatal accidents; 2.6% (+29) in the number of deaths and 4.3% (+209) in serious injuries.
The DGT conceded that these numbers were unacceptable, and that measures would be taken to significantly reduce the number of accidents on Spanish roads during 2017.
All figures contained in the report refer only to fatal accidents occurring on inter-urban roads and the admission to hospital of casualties up to 24 hours after the accident occurred.
Fatalities are is still below those registered in 1960, the first year in which statistics were made available and recording 1,300 deaths, however at that time there were just 1 Million cars registered in Spain, whilst in 2016 the fleet stood at 32 Million.
In 2000 fatalities stood at an average of 11.6 deaths per day on the roads, which plummeted to 3.2 deaths per day by 2016.
Within Europe, Spain has a rate of 36 deaths per million inhabitants, well below the EU average mortality rate of 52, which places Spain as one of the countries of the world with best levels of road safety.
Significant data for 2016 :
Vehicle age : In 2016 the average age of any vehicles involved in fatal accidents stood at 13.6 years for Cars; 11.1 for vans and 9.5 for Motorcycles.
Driving under the Influence : The DGT recorded a total of 60,942 Drug tests up to November, with 23,822 (39%) testing positive.
Some 4.6 million tests were undertaken for alcohol, with 68,852 (1.5%) testing positive.
Safety : In 2016, 161 fatalities were recorded as a result of non-use of a recommended safety device (Seat belt or Crash Helmet.
Gender : The percentage of road accident fatalities stood at 79% Male to 21% female.
Age : As for the age groups, the highest percentage of deaths is in the age group from 45 to 54 years old at 225 deaths, 19% of the total and in the group from 35 to 44 years, with 216 deaths, Also 19% of the total. The next age group with the highest number of deaths is 25 to 34 years old with 165 deaths, 14% of the total.
Children who died (up to 14 years) were 19, 2% of the total. Those over 65 years of age, with 240 deaths, represented 21% of the total.
By Region : The Valencian Community (+19), Andalusia (+14), Castilla la Mancha (+11), Baleares (+9), Murcia (+8), Asturias , La Rioja (+6) Extremadura (+3) and Aragón (+1).
Reductions were seen in Catalonia (-23), Castilla-León (-20), Cantabria (-7), Madrid (-6), Basque Country (-5), Navarre (-2) and Canary Islands (-1).
By road type : Conventional roads are still the roads with the largest number of fatalities (75%), however these figures were 3% down on 2015.
Bicycle users :
Encouragingly, Also, bicycle fatalities for 2016 fell by 10 on the previous year, standing at 33, with 214 motorcycle deaths (also down 10 on 2015), and 21 moped deaths, 6 less than the previous year.
Recommended Reading :
* 1,785 Spanish drivers apprehended for drink and drugs in 3 days
* Spain's DGT clamp down on commercial vehicles