Spain preparing new digital copy tax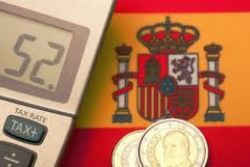 The Spanish government is preparing to include cloud storage, smartphones, tablets and hard drives in a new private copy levy designed to replace the previous 'digital canon' declared illegal by the Court of Justice of the European Union, reports Europa Press.
Under the terms of the new proposal, the tax on digital reproduction devices and supports could rise to EUR 12 for hard drives, EUR 1.1 for smartphones, EUR 0.44 for DVDs, EUR 0.30 for USB sticks and EUR 0.17 for CDs.
The draft also includes a category of "portable devices capable of reproducing multimedia content", which will be taxed at EUR 3.15, said the report.
The previous 'digital canon' was deemed illegal on the grounds that copyright holders received "fair compensation" direct from public budgets rather than from taxes collected.
Recommended Reading :
* Spain announces EU 115 Mln boost to tech companies
* 88% of all downloads in Spain illegal