EU tells Spain to brace for cuts due to likely 2017 deficit target miss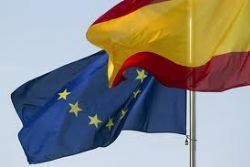 Brussels has some good news and some bad news regarding Spain's budget for 2017. A European Commission assessment due for release on Tuesday, and to which EL PAÍS has had access, shows that the Spanish budget meets EU requisites "in general terms." But it also notes that Spain will overshoot its deficit target by two-tenths of a percentage point, and warns that the government "must be ready to approve additional measures."
Spain has already tweaked its fiscal policy by approving tax hikes, but even this will probably not be enough to bring the deficit down to the target of 3.1%, says the study. Instead, it will be closer to 3.3%, representing excess expenditure of €2.1 billion.
If so, it would be the sixth time that the Mariano Rajoy administration has failed to meet its EU targets in six years. And the Commission feels that Spain will miss its goals again in 2018, when the deficit is expected to be 2.8% of GDP instead of the agreed 2.2%.
Based on these estimates, the Commission is asking the Spanish government to "be ready to take additional measures" if the deviations "entail a greater risk" of failing to meet targets.
In other words, if the Commission's forecast is correct, then Rajoy will be forced to either introduce further budget cuts or raise taxes in order to balance the accounts.
Brussels is forecasting GDP growth of 2.3% in 2017 – in line with IMF predictions – while Madrid is offering a more optimistic 2.5%. These two-tenths of a point can make all the difference between meeting deficit targets or missing them again, a year after Spain narrowly averted sanctions for its constant overshooting.
Even though one of Rajoy's campaign promises – made in the Financial Times, no less – was not to raise taxes, the first budget of his second term in office is pointing the other way.
Spain had been told to make "structural" adjustments – those that are independent of the economic cycle at a given moment – representing 0.5% of GDP (around €5.5 billion). To do so, Madrid is planning hikes on corporate tax, alcohol, tobacco, sugary drinks and emissions. And if further measures are still required, everything indicates that fuel prices will be next in line.
Although the document does not say so, Brussels is also concerned about Rajoy's ability to reach congressional deals on budget issues, given that he heads a minority government and faces an opposition that is openly hostile to further cuts.
Adding to the Commission's worries is the fact that several political groups in Spain could ultimately work together to repeal the labor reform.
"That would be terrible news and would place the Commission on alert again," said a high-ranking EU source. "But Spain has ceased to be a problem for Brussels in a year of elections, and with Donald Trump encouraging a trade war with the US."
Recommended Reading :
* Spanish Economy may have beaten 3.2% goal in 2016 : Minister
* EU fires warning shot at Spain