Spanish court jails 4 ex-bankers for misappropriation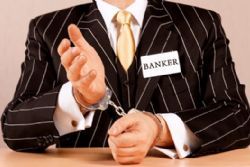 A Spanish court ordered four former executives of a bank bailed out during the country's banking crisis to serve two-year sentences for misappropriation that it handed down in 2015.
The High Court ruling published on Tuesday marked the first time any of the scores of bankers facing accusations of misappropriation or mismanagement in connection with the near collapse of Spain's banking system in 2012 were sent to jail.
With the crisis in full swing the NCG Galicia bankers, including the savings bank's then chairman Julio Fernandez Galloso, awarded themselves EU25 Mln payouts that were protected in the event of a merger or takeover.
The four avoided jail after their initial sentencing by undertaking to return the money. But the High Court said on Tuesday less than half had been paid back.
In consequence, "(the) gravity of the crime committed with regard to the macroeconomic impact produced determines that the (...) condemned must be sent to prison," it said in the ruling.
The four, who can appeal the ruling, had been detained and were in prison, a spokesman for the court confirmed.
A lawyer who advised them on the compensation scheme was also jailed on the same charges.
Spain's banks were rescued with EU41 Bln of European money in 2012, with NCG receiving more than EU9 Bln after incurring huge losses on bad real estate investments.
It was sold for EU1 Bln to Venezuelan bank Banesco in 2013.
In all, more than 200 former Spanish banking executives have faced allegations of misappropriation or mismanagement in connection with the sector bailout.
Recommended Reading :
* Spanish Bank bailout costs taxpayers EU41.8 Bln
* Spain recoups just 5% of EU51.3 Bln Bank restructuring cost