Spain's Banco Santander posts 4 pct full-year profit rise, beats forecasts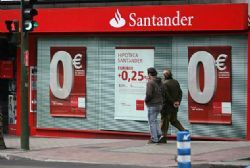 Banco Santander opened Spain's bank reporting season on Wednesday with a 4 percent rise in its 2016 net profit from a year earlier, above analysts' forecasts and helped by strong business in its key Brazilian market.
Santander, the euro zone's biggest bank by market value, reported net profit of 6.2 billion euros ($6.65 billion) beating the average of analysts' estimates calculated by Thomson Reuters of 6.12 billion euros.
For the fourth quarter, the lender announced a net profit of 1.6 billion euros.
For 2016, net interest income, a measure of earnings on loans minus deposit costs, was 31.1 billion euros, down 3.4 percent from a year ago, mirroring pressure on margins experienced by other Spanish banks. Analysts had expected NII to come in around 30.8 billion euros.
Recommended Reading :
* Spanish Banks count 3Bln Euro cost of Mortgage refund
* Spanish Bank bailout cost taxpayers 41.8 Bln Euros