Belgium denies Brits Brexit safety net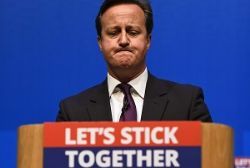 Belgium's Prime Minster, Charles Michel, states Brits living in the country with special ID cards will not be guaranteed citizenship post-Brexit.
Currently, British citizens are allowed to live in Belgium as part of the EU freedom of movement legislation. However, the Belgian Prime Minister has rejected the possibility of creating new rules for British expats after Brexit.
Currently, Britons in Belgium are living on a diplomatic ID card. Those in possession of this card have been told that they will not be granted citizenship after article 50 is triggered. The only exceptions will be those who have lived in the country for over five years and are an ideal candidate for permanent residency.
This news was shared by Prime Minister, Charles Michel, in an internal European Parliament email.
As mentioned, those who have been living in Belgium for an uninterrupted period of five years will be automatically granted citizenship. However, those with British passports who intend on remaining in Belgium for more than three months (even now) are being urged to apply for a residency permit by the Foreign and Commonwealth Office.
If granted a permanent residency card before Brexit, Brits are welcome to remain in Belgium for as long as they choose. However, it is likely that these rules will change when article 50 comes in to action.
During December, British Prime Minister Theresa May visited Brussels to attend a European Council meeting to update fellow EU members on the UK's plans. May endeavoured to secure an early agreement with European leaders as to what the future of British expats in EU countries would look like come the leave. On leaving the summit, May refused to reveal details of her discussions.
However, European Council President, Donald Tusk, commented that "the short, informal meeting" had "reconfirmed our principles, meaning the indivisibility of the four freedoms, the balance of rights and obligations and the rule 'no negotiations without notification".
Irish leader of Taoiseach, Enda Kenny, also passed comment: "She would like to have the question of UK citizens living in Europe and European citizens living in the UK dealt with in the early part of discussions that take place."
With negotiations still underway and uncertainty still rife, British expats in EU countries, and Europeans in the UK, will have to wait patiently to see how Brexit will affect the likes of residency, working rules, property, and healthcare.
Recommended Reading :
* "Spain will work to defend rights of it's Citizens in wake of Brexit" : PM Rajoy
* Brexit talks with Britain "Will be as part of EU" : Rajoy