Spain's Banco Sabadell 2016 net profit stalls on mortgage charges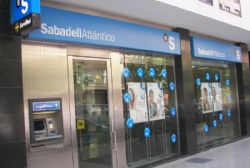 Spain's Banco Sabadell on Friday posted a 0.3% rise in its 2016 net profit from a year earlier as its bottom line was hit by one-off charges related to mortgage floor clauses.
Full-year net profit for 2016 came in at EU710 Mln below the average of analysts' estimates calculated by Thomson Reuters of EU738 Mln. In Q4, net profit was EU64 Mln, almost 51% down from last year.
Spain's 5th largest bank by market value said on Monday it expected a one-time hit of up to EU490 Mln from a court ruling that obliges banks to reimburse customers sold unclearly flagged mortgage contracts.
Spanish banks are expected to repay customers more EU4 Bln after Europe's top court overturned in December a Spanish ruling that capped liabilities relating to these disputed mortgage clauses.
Recommended Reading :
* Spain's Sabadell sees up to EU490 Mln hit from mortgage floor contracts
* Government opposition reach deal on floor clause refunds for mortgage holders