Spain's Popular targets in doubt after record 3.5 bln euro loss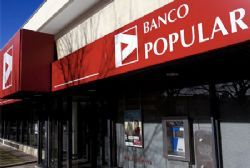 Spain's Banco Popular posted a record 3.5 billion-euro loss for 2016 on Friday after higher-than-expected charges on soured property loans eroded the bank's capital position and cast doubt over its financial targets.
Popular, considered a weak link in Spanish banking due to its high exposure to troubled real estate assets, is replacing Chairman Angel Ron with Emilio Saracho as it tries to get its turnaround on track.
Shareholders rebelled last November as a result of Ron's failure to clean up the bank's books, at a time when banks in Spain and across Europe are grappling with low interest rates and waning margins.
This more challenging environment, further efforts to shed bad loans and the management shake-up could prompt Popular to revise its 2018 targets, Chief Executive Pedro Larena said. These include goals on costs, capital and profitability.
"When we talk about the targets, there is no doubt that now they are even more challenging to achieve," Larena told analysts on a conference call. "This, coupled with the fact we'll have a new chairman, suggests that the most prudent position now is to put these targets under revision."
The worse-than-expected full year net loss came as Popular recorded extraordinary provisions of 5.7 billion euros, mainly to cover writedowns on property loans, above its previous 4.7 billion-euro estimate.
Shares in Banco Popular were down 5.5% by 1030 GMT, as analysts expressed doubts that its clean-up process would be enough to increase its coverage of non-performing assets to 50% by 2018 from around 45 percent in 2016.
The stock has fallen 55% in the last year, against a 18% rise in the European STOXX banking index.
Banco Popular ended 2016 with a fully-loaded capital ratio - a measure of a bank's strength - of 8.17% compared to a target of more than 10.8% for 2016 and 12% by 2018.
In June, Popular raised 2.5 billion euros via a share issue as it started stepping up efforts to clean up its property assets. It said on Friday it had done enough to avoid another capital increase.
REAL ESTATE SPIN-OFF
In 2012, at the height of a financial crisis that led several banks in Spain to be bailed out by the state, Popular posted a 2.5 billion-euro loss.
The Spanish banking sector has since recovered, but Popular still has about 30 billion euros of toxic assets it accumulated after Spain's housing bubble burst in 2008.
Ron is expected to be replaced by Saracho, who joins from JP Morgan, after an extraordinary shareholder meeting on Feb. 20.
He had planned for Popular to hive off 6 billion euros of its property assets into a separate division to help reduce its non-performing real estate portfolio by 15 billion euros by 2018, and on Friday said this spin-off was progressing well.
Popular finished the year with the highest rate of non-performing loans among Spain's large banks with a ratio of 14.61% in Q4 while the average for Spanish banks bad loan ratios stood at 9.23% at the end of November.
The lender's net interest income (NII) for the year stood at 2.1 billion euros, down 7% on the previous year as competition for lending ate into margins. That was in line with an average of analysts' estimates calculated by Thomson Reuters of 2.1 billion euros.
In the quarter NII was up 3% against Q3, however, as Popular benefited from lower funding costs.
Recommended Reading :
* Spanish Bank counts EU3 Bln cost of mortgage refunds
* Spain's Popular to speed up property asset sales in 2016