Thousands protest as former Catalonia head starts referendum trial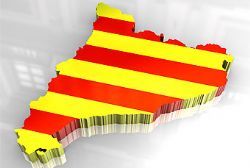 Thousands of protesters gathered outside a Barcelona court on Monday as the former head of the eastern Spanish region of Catalonia went on trial for staging a 2014 informal referendum on independence in breach of a legal order.
Catalonia, a Mediterranean region with its own language and culture, is home to a strong separatist movement and pro-independence campaigners held a vote two years ago on whether to break away from Spain while Artur Mas was regional governor.
The poll was carried out without legal backing because the central Spanish government blocked it in the courts, saying it was against the constitution. The symbolic ballot was manned by volunteers to get around the restrictions.
Mas, who stepped down as leader last year, stands accused of disobedience against the state and wrong-doing as a public official. He could face a 10-year ban from public office if found guilty.
"Today, many of us feel as if we're being tried," current regional head Carles Puigdemont said outside the court surrounded by allied Catalan politicians, regional flags and supporters with signs calling for independence.
The trial comes at a time of high tension between Prime Minister Mariano Rajoy's minority government and Catalonia, where a vehemently pro-independence local administration took power in 2015.
The regional administration has vowed to hold an official referendum on its potential split from Spain later this year.
Rajoy has continued to stonewall any talk of a referendum, saying he is open to dialogue but reiterating that a ballot on independence is against the law.
"We can talk but everyone must obey the law," he said on Friday in Malta.
Recommended Reading :
* Catalan Independence referendum 'not possible' : Spanish PM
* Catalans protest Spain's legal challenges to secession