Ryanair to launch new routes from Spain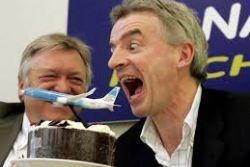 Irish low-cost airline Ryanair plans to capitalize on Spain's tourism bonanza by opening up new routes from the country where it is already the market leader. As of February, the carrier plans to launch flights from Madrid to the Italian city of Bari, and to Glasgow and Prague, while Barcelona is expected to see new services to Krakow, Luxembourg, Prague and Venice.
At the same time, the airline will extend its winter flight schedule for both Madrid and the Catalan capital and boost the number of flights on a total of 12 existing routes from the two cities.
Under the plans, Ryanair forecasts it will carry 6.7 million people a year out of Madrid, or 12% more than current capacity, while the predicted rise in passenger numbers from Barcelona is 10% to 7.1 million.
The company headed by Michael O'Leary built on its position as the biggest airline in Spain in 2016, carrying 34.7 million passengers, a number it hopes will grow to 38 million this year, according to the carrier's marketing director Kenny Jacobs.
The executive said Ryanair would pass savings on to customers in the wake of a Spanish government move to reduce airport taxes by 11% until 2021. The average ticket price for Ryanair flights in 2016 was €46 but this is expected to come down to €41 at the end of March. That's against an average of €151 across all other airlines, according to estimates made by the Irish carrier.
Jacobs said the airline would continue to focus on short- and medium-haul flights in Europe with plans to add 220 new planes to its current fleet by 2024, but he noted that Ryanair was also looking at cooperating with IAG and Norwegian on long-haul flights.
Recommended Reading :
* New routes announced Scotland - Spain
* New flights announced North UK - Spain