Trump, Spanish PM Rajoy due to hold phone conversation on Tuesday night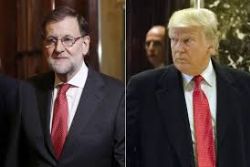 Spanish Prime Minister Mariano Rajoy is due to speak to US President Donald Trump via telephone on Tuesday night, according to the White House. The conversation is scheduled for 9.45pm CET (3.45pm in Washington) and is likely to last around 20 minutes.
According to an update of Trump's agenda from the White House on Tuesday, the president will speak with Rajoy from the Oval Office. Afterwards, Trump will place a call to Turkish President Recep Tayyip Erdogan.
Trump and Rajoy held a 20-minute phone conversation on December 12. During the chat, they committed to maintaining a high level of confidence in their bilateral relations and preserving the relevance of their transatlantic links. According to the Spanish government, Trump expressed his huge affection for the Spanish people, and spoke of his time spent in Barcelona, which he described as a "magnificent city."
During that December conversation, Rajoy told Trump that he is convinced of the need to encourage sustained economic growth in Spain and Europe in order to create jobs and reduce the inequality gap.
The pair also discussed international political issues, with a particular focus on security and defense, and the global fight against jihadist terrorism.
During a December visit to the United Nations in New York, Rajoy stated that he had "no doubt" that with Trump as US president, relations between the two countries would be maintained or could even improve.
Recommended Reading :
* Spanish Government fails to speak out against Trump's travel ban
* Spain's Rajoy congratulates Donald Trump