Ex-Bank of Spain head faces probe on Bankia IPO, three officials resign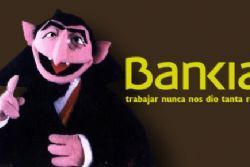 The Bank of Spain's former head and seven other Spanish regulatory officials will be placed under investigation over their roles in the ill-fated listing of the now state-controlled bank Bankia (BKIA.MC), a court ruled on Monday.
The Bank of Spain said three of the eight - all top officials from its supervisory and inspection units - would resign on Tuesday because they did not want to affect the central bank's functions while testifying as part of the case.
Bankia became a symbol of Spain's banking crisis when it was nationalised in 2012 through a 22.5 billion euro (19.04 billion pounds) bailout just a year after it was floated, wiping out its shareholders and triggering lengthy legal action.
Spain's High Court said on Monday it would investigate former Bank of Spain Governor Miguel Angel Fernandez Ordonez and five other central bank officials.
Two top officials of the CNMV stock market regulator at the time of the Bankia flotation - its former head Julio Segura and his then deputy Fernando Restoy, who is now at the Switzerland-based Bank for International Settlements - were also placed under investigation.
In the ruling, the High Court said there was evidence linking the officials to "criminality", after investigators studied emails from Bank of Spain inspectors who had warned against giving Bankia the go-ahead to float.
"The emails' contents leave no doubt about the decisive information the Bank of Spain's management had in advance about (Bankia's) unviability and the fallacy of the results presented by the inspection team of the Bank of Spain," the court said.
Investigating judge Fernando Andreu has now to formally notify the former and current officials when they must appear in court, a spokesman for Spain's High Court said.
Fernandez Ordonez stepped down a month before the end of his six-year term as governor in 2012 at a time when a mounting pile of toxic assets at Spanish banks threatened to push the country into a bailout.
The Bank of Spain declined to comment on Fernandez Ordonez's behalf and he could not immediately be contacted for comment.
The CNMV said it respected the court's ruling but was convinced that the flotation was carried out correctly with professionalism and diligence.
The Bank for International Settlements, which acts as a forum for the world's major monetary authorities, did not immediately reply to a request for comment regarding Restoy, who chairs its Financial Stability Institute.
After restating its accounts in May 2012, Bankia revealed an almost 3 billion euro loss for 2011.
Bankia replaced both its chairman and chief executive in 2012 and has bounced back from the losses that triggered its nationalisation. The government said in December it plans to privatise it before the end of 2019.
The Spanish state, which owns 66 percent of Bankia, created it in 2010 by grouping together seven lenders which had been toppled by the country's property market crash.
Recommended Reading :
* EX IMF Chief evaded EU6.8 Mln says Spanish Tax Agency
* Bankia says fulfilled compensation claims worth EU35.8 Mln