Bank of Spain backs its officials over doomed Bankia listing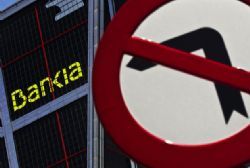 The Bank of Spain said on Tuesday its staff had acted correctly in their oversight of Bankia (BKIA.MC) and its ill-fated stock market listing, after a court said it would investigate several former officials at the central bank.
A casualty of Spain's real estate crash, state-controlled Bankia had to be bailed out in 2012, less than a year after it was floated, causing losses for many ordinary Spaniards.
Spain's High Court, which has been looking into who knew what about Bankia's troubled state before it was listed, on Monday said it was placing the central bank's former governor Miguel Angel Fernandez Ordonez under investigation.
Fernandez Ordonez and five other former Bank of Spain officials from the supervisory and inspection units will have to testify, alongside two former senior managers at Spain's stock market regulator, the CNMV.
Reuters has not been able to contact any of the individuals.
The Bank of Spain said in a statement that its board had "full confidence" in the officials named in the court summons, three of whom on Monday tendered their resignations, which were officially accepted by the Bank of Spain on Tuesday.
The central bank had "at all times complied with regulations, the defence of financial stability and the public interest," it added.
Bankia's 22.5 billion-euro (£19.2 billion) bailout pushed Spain into requesting a European aid package for its ailing banks at a height of a deep recession, making it a target of protests and public anger.
The rescues are still politically sensitive. Opposition parties, led by leftist alliance Unidos Podemos ("Together We Can") called on Tuesday for a parliamentary commission to look into how they were handled. The commission is likely to get the green light in parliament next week.
Bankia's listing went ahead when the centre-left Socialists were still in power, and it was their government that named Fernandez Ordonez to the Bank of Spain.
Prime Minister Mariano Rajoy's conservative government dealt with the Bankia fallout in 2012.
The High Court investigation has yet to go to trial.
Its ruling on Monday cited several Bank of Spain internal emails from staff who raised doubts about Bankia's future before it was listed - including one email where "the group is not viable" was written in red capital letters.
Recommended Reading :
* Bank of Spain says 3 officials to resign over Bankia IPO case
* Ex Bank of Spain head faces probe on Bankia IPO