Brexit Worry as Spain Predict Financial Disaster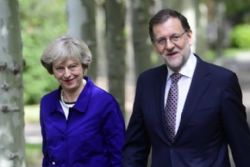 It is not just expats that are uncertain about their futures in EU countries: Spain is also preparing to feel the brunt when the UK officially leaves the EU. Spanish PM, Mariano Rajoy, is predicting a vast financial loss for the country if expats leave and tourists head elsewhere.
Currently, Spain is home to over 300,000 officially registered British residents and around 68 million holidayed in the country last year. At a recent news conference in Madrid, Rajoy expressed concerns that Brexit is a dangerous threat to Spain, and the actions of its expats and future tourists could equal a massive loss to the countryís GDP.
In early February, discussions between Theresa May and the Spanish PM resulted in an agreement that there should be an early deal for expatís rights after Brexit. However, despite this positive stance, Rajoy has been vocal in his fear for the Spanish economy.
Historically, Spain and the UK have had an amicable relationship. The UK is Spainís third largest commercial companion (after France and Germany) and is home to many investments of Spanish companies, a concern for Rajoy. The Prime Minister also expressed concerns to reporters about the fall in sterling putting UK expats off buying property in Spain and a decrease in British tourists.
However, Spain isnít the only country that could be gravely affected by Britainís decision to leave the EU. Theresa May has made it clear that she will be engage in discussions with Enda Kennedy, Prime Minister of Ireland. Many fear a Ďhard borderí with Northern Ireland after Article 50 is set in motion, but this is not the only fear of the Irish.
Ireland imports more from the UK than any other country, and there is an estimated £800 million to £1 billion poundsí worth of cargo moving between the two countries per week. Ireland is also Britainís fifth biggest export market, meaning there could undoubtedly be a massive impact on trade relationships between the two countries. It has been suggested that, regardless of negotiation results, there will be new trade barriers set in place which could damage Irelandís economy.
Although the economy is a real concern for Ireland, there are also social and political issues which could be affected. The European Union has been a vehement supporter of the peace process in Northern Ireland. Since 1995, money from the European Peace and Reconciliation Fund (£1.1 billion of which was EU funded) has been put towards programmes and initiatives to create peace between Northern Ireland and Ireland. Therefore, it is suggested that the UKís close relationship with Ireland could see the Treasury withdraw their munificence.
Once Article 50 is triggered it is inevitable that every remaining EU member state will feel some sort of impact. Whether other countries follow suit, only time will tell. But, until negotiations have been set in stone, the world is still unknowing of the final consequences on Britainís vote to leave.
Recommended Reading :
* British Tourism to Spain hits record despite pound's post-Brexit fall
* Spanish Hotel boss warns sector is feeling first effects of Brexit