Spain's Supreme Court rejects request to move Franco's remains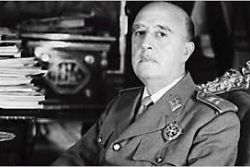 Spain's Supreme Court on Tuesday threw out a legal bid by a former judge to remove the remains of General Francisco Franco from a state-funded mausoleum, more than 40 years after the dictator's death.
The former judge, Baltasar Garzon, presented a proposal last year to redevelop the mausoleum site, the Valley of the Fallen, outside Madrid into a memorial for the victims of Spain's 1936 to 1939 civil war and Franco's ensuing dictatorship.
As part of that proposal, he asked that Franco's remains be moved to a burial site chosen by the Franco family, and that tens of thousands of bodies buried there be exhumed for identification.
The Supreme Court is yet to detail why it had rejected the appeal, which came after Garzon and two lawyers first tried unsuccessfully to get the Spanish cabinet to take on the re-conversion of the site.
Garzon and his allies said in a statement they would now appeal to Spain's Constitutional Court and possibly later to the European Court of Human Rights. Garzon, known for issuing an arrest warrant for former Chilean dictator Augusto Pinochet in 1998, was controversially disbarred for 11 years in 2012 for carrying out illegal wiretaps.
The 150-metre cross of the Valley of the Fallen monument towers over the Guadarrama Sierra, a mountain range west of Madrid. Opened by Franco himself in 1959, the Valley houses a Catholic basilica set into a hillside, where the founder of Spain's fascist Falange party, Jose Antonio Primo de Rivera, is also interred.
The Valley has long been a site of pilgrimage for far-right groups in Spain. But it has also drawn a growing backlash as political parties and campaigners call for it to be reconverted and for remains to be disinterred.
Nearly 34,000 dead from both sides of the civil war are buried there, including many who fought for the losing Republican side, whose bodies were transferred to the site during Franco's dictatorship without the permission of families.
Spain's Association for the Recovery of Historical Memory, a non-profit organisation, said it was disappointed by the Supreme Court's ruling.
"That the state should force the victims of the dictatorship to maintain the tomb of a dictator with their taxes is a form of abuse," the association's head, Emilio Silva, said.
Spain's opposition Socialist party in February presented its own proposal to parliament calling for Franco's remains to be removed from the Valley and for it to be converted to an information centre to honour victims on both sides of the war.
Recommended Reading :
* Spain refuses to declassify state files from 1931 to 1968
* More than 100,000 people remain missing in Spain