Spain confirms case of 'mad cow disease'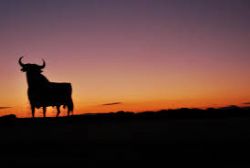 Spain has confirmed a case of bovine spongiform encephalopathy (BSE), commonly known as mad cow disease, in the northwestern province of Castilla y Leon, the World Organisation for Animal Health (OIE) said on Friday.
Routine testing showed a positive result for atypical BSE type L disease in a tissue from an animal in a cattle farm in Horcajo Medianero, near the town of Salamanca, the Paris-based OIE said, citing a report from Spain's agriculture ministry.
Widespread cases of mad cow disease hit cattle herds in Britain and other European countries in the 1990s. The so-called atypical cases have occasionally been detected in recent years and can lead to temporary trade restrictions.
Recommended Reading :
* Spaniards among lowest spenders on fast food in Europe
* McDonalds bow to Spanish consumer pressure