Region of Murcia gets heavy with AENA over Corvera Airport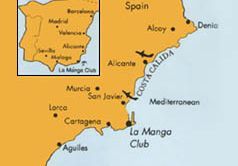 Ok, so it might be 5 years overdue, but the regional government of Murcia seems to have finally grown a pair of 'Cojones' and decided to move forwards with the process to formally approve the operation of Corvera Airport - with or without the backing of AENA.
Pedro Rivera, the Regional Minister of (lack of) Development apparently gave an ultimatum to the President of AENA to end civilian flights at San Javier Airport, otherwise the region will push forward with the opening of the newer facility.
It is more than three weeks since agreement was made by the board of AENA to close San Javier, yet pen has still to be put to paper to formally seal the deal.
In a letter to AENA, Rivera has reminded the board that the region of Murcia has already agreed to the payment of some EU35 Mln in compensation for the 'closure' of San Javier, and complained of the fact that on Feb 21st – 5 minutes before the board met – he was called to be informed that a further report was required to be submitted concerning the Safety of Airspace at the Airport.
The Minister has apparently made clear in his letter that the regional government holds that AENA is now employing delaying tactics in order to push for a greater compensation payments, believing quite reasonably, that if such a report were to be required it could have been requested at a much earlier stage.
Another possible scenario is that the tender to operate Corvera Airport has yet to be declared. And although this will be competitively tendered, AENA certainly have ambitions in that direction.
Are AENA simply playing dirty to ensure that they are positioned for their best possible outcome, and at maximum likely cost to the regional taxpayer for an Airport that they never wanted and will never use ?
Recommended Reading :
* Murcia's Corvera Airport to take off in 2017
* Murcia's San Javier Airport passenger numbers up 2.7%