Spain PM pledges EU 4.2 Bln investment in Catalonia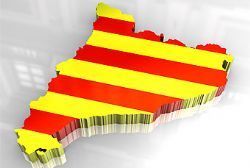 Spanish PM Mariano Rajoy has promised to invest EU4.2 bln in northwestern Catalonia whose regional government is pushing for independence from Spain mainly over 'economic grievances'.
Rajoy promised the investment, mostly in rail transport infrastructure between 2017 and 2020, while addressing business leaders Tuesday in the Catalan capital of Barcelona.
The Catalan government has long accused Spain of cheating the region economically. It pledges an independence referendum in September, which Spain says would be illegal.
Rajoy appealed to his audience to help "win the battle" against the independence drive and ensure economic recovery in Spain and Catalonia.
Polls consistently show the 7.5 million Catalans are evenly divided on independence, although a majority supports a referendum.
The region represents a fifth of the country's GDP.
Recommended Reading :
* Spain's Constitutional Court cancels resolutions on Catalonia's independence
* Catalan independence referendum "not possible" : Spanish PM