2.5 Million Passengers per year to arrive at Murcia's Corvera Airport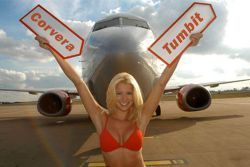 It has been a while since the Regional Government of Murcia has made a wildly unsubstantiated and overestimated claim on the topic of Corvera Airport, however they returned in style this past weekend.
In a report published in the Official Journal of the European Union, the Regional Ministry of Bullshit claimed that - once fully opened - the new Airport at Corvera will "Generate 2 million euros per year in revenues" and will "Total 495.8 Euros over the first 25 years of operation".
Murcia also claimed that the minimum fee per passenger to be contributed by the National Government will stand 0.73 euros for the first 10 years, 2.09 Euros for the following 5 years, rising to 2.56 Euros per passenger in the later years.
It was also reported how the Regional Government will also receive from 10% of all charges levied by the Airport's operator for freight handled at the facility.
However, if the 2.5 million passenger numbers per year figure is to be exceeded, the payment per passenger is likely to be 10% lower.
2.5 Million Passengers per year arriving at Corvera ? : Thoughts ?
Recommended Reading :
* Murcia's Corvera Airport to take off in 2017"
* Region of Murcia gets heavy with AENA over Corvera Airport