Assad's uncle has $736m property empire seized in Spain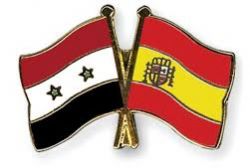 Police in southern Spain have staged raids targeting $736m of property assets belonging to Rifaat al-Assad, the uncle of the Syrian president.
The swoop comes less than a year after Rifaat al-Assad was put under investigation in France for tax fraud and money laundering.
Magistrate Jose de la Mata has ordered the confiscation of 503 properties including holiday homes, car parks, luxury apartments and rural estates worth $736m, the High Court said in a statement on its website.
Authorities also seized a sprawling ranch with a market value of 60m euros in Puerto Banus, close to the Marbella. They also froze dozens of bank accounts.
French and Spanish authorities have been cooperating on the case and Spain opened an investigation on the back of the French one.
Rifaat al-Assad, 79, is the brother of former Syrian dictator Hafez al-Assad, the father of current president Bashar al-Assad.
Dubbed the "Butcher of Hama" for his alleged commanding role in the bloody suppression of an uprising in that city in 1982, he fled Syria in the 1980s after attempting to seize power from his brother.
On Hafez's death in 2000, he made another bid for power – this time from his villa in Spain – but failed when his nephew Bashar took charge.
He is believed to have received $300m of state cash which he used to buy real estate in France, Liechtenstein, Luxembourg and Curacao.
The Daily Telegraph newspaper reported that he was living in a $12m Mayfair townhouse in 2011.
Some of the assets are registered to Rifaat al-Assad and companies linked to him, and some to his wives, children and daughters-in-law.
The owner of one of the blocked accounts is a Spanish citizen who heads the company that manages most of the Assad family's business abroad.
In a statement released to Reuters, Rifaat al-Assad and his family retorted that they had "never benefited from financing that in any way wronged the Syrian state and its people."
"They question the timing of these coordinated judicial actions, 33 years later, at a time when their country is suffering more than ever and where Rifaat al-Assad's voice should be heard to contribute to find a peaceful solution to the Syrian conflict," it read.
His distance from Bashar al-Assad's inner circle means that he has not been affected by asset freezes and travel restrictions imposed by the European Union, say reports.
The raids come a week after Spain's High Court launched a criminal investigation against the Syrian security forces for their alleged role in the death under torture of a Spanish-Syrian truck driver.
Recommended Reading :
* 440 Criminal organisations at large in Spain
* Multimillionaires on the rise in post-crisis Spain