Spain sells 4.8 bln euros of debt at auction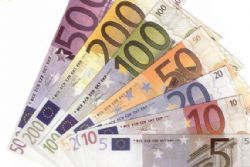 Spain sold EU4.8 Bln of debt at an auction of 4 bonds on Thursday, with yields mixed as investors looked for further monetary policy guidance from 2 of the world's largest economic blocks.
The Spanish Treasury had aimed to sell between EU500 Mln and EU1 Bln of the inflation-linked, and between EU3.5 Bln and EU4.5 Bln in the other three papers.
The inflation-linked bond, due November 30, 2024, with a 1.8% coupon, sold EU876 Mln at an average yield of 0.113% compared to 0.159% at the bond's last auction in February. Demand for the bond was 2.0% 1.4% 2 months ago.
The Treasury sold EU1.9 Bln of a bond due Jan. 31, 2020 with a 1.4% coupon at an average yield of 0.126% and a bid-to-cover ratio - a measure of demand - of 1.6%.
It sold EU1.3 Bln of the current 10-year benchmark bond due April 30, 2027, with a 1.5% coupon at a yield of 1.610%, slightly lower than 1.684% when it last auctioned in March. Demand for the bond was 1.7 times supply after 1.4 last month.
The longest dated, July 30, 2041, 4.7% bond sold EU792 Mln for 2.666% and at a bid-to-cover ratio of 1.5%. The bond was last sold in December at an average yield of 2.569% and with demand over supply of 1.5%.
Recommended Reading :
* Spain Banks borrowed 144.6 Bln from ECB in January
* Wary Brussels boosts Spain's deficit forecast to 3.5% of GDP fro 2017