Gibraltar accuses Spain of causing traffic jams at border amid Brexit tensions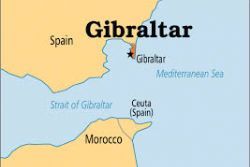 Officials in Gibraltar have accused Spain of causing long traffic jams and delays as the diplomatic row rumbles on over the British territory.
Gibraltar has emerged as a sore point between Spain and Britain as negotiations start to take place over Brexit.
Deputy Chief Minister Joseph Garcia complained of traffic building up on Wednesday (5 April) towards the border of the rocky British outcrop at Spain's southern tip.
"The latest action of Spain is obviously and clearly a response to the latest political climate," Mr Garcia said. "It is what they've always done but certainly it is totally and absolutely unacceptable."
He added: "We have been told that the police officers deployed at the border, the Policia Nacional, are not the ones that are here normally. They don't quite understand how they need to conduct the checks at the border."
Police in the territory known as The Rock, which is home to 32,000 people, tweeted: "All those driving toward Spain should expect long delays."
Some 10,000 people cross from Spain to Gibraltar to work every day, with the outcrop dependent on the small land border for trade and tourism.
"Spain has used traffic jams as a political weapon against Gibraltar since the day the border opened," Garcia charged.
He noted that there were similar scenes at the frontier in 2013 when, during a diplomatic row, Madrid doubled its border controls until the European Commission stepped in to calm the situation.
The latest tensions emerged when the European Union said that Spain should have a veto on extending any trade deal to Gibraltar after Britain leaves the EU.
London and Madrid have had a long and bitter dispute over Gibraltar, which has been a British territory for more than 300 years.
Recommended Reading :
* Spain's PP : Brexit "An Opportunity"
* Madrid : "Scotland is not Catalonia and Northern Ireland is not Gibraltar"