Spanish Banks borrowed EU149 Bln in March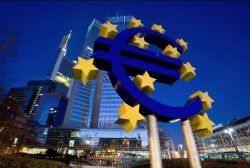 A statement issued earlier today by the Spanish Central Bank has reported how the country's banking institutions borrowed a total of EU149.4 billion from the European Central Bank (ECB) during the month of March.
This was up from the EU145.0 billion borrowed from the ECB during February.
Borrowing in January stood at EU144.6 Billion, suggesting perhaps a worrying trend for the rest of 2017.
Recommended Reading :
* Spain's Social Security shortfall rises to EU186 Bln in 2016
* OECD praises Spanish recovery but issues alert over rising poverty