Bank of Spain says structural reforms needed to further reduce deficit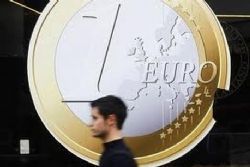 The governor of the Bank of Spain said on Tuesday that more structural reforms were needed to further reduce the country's public deficit, but conditions would need to remain favourable to do so.
"Reforms that increase the economy's growth potential, maintaining competition and fiscal consolidation policies, are necessary to carry on reducing the deficit," Governor Luis Maria Linde told a parliamentary committee.
Spain has agreed with Brussels a deficit target of 3.1 percent of GDP for this year, which Linde has said he expects the government to be able to meet.
Linde reiterated a forecast for 2017 Spanish economic growth of 2.8 percent and said the economy was resisting the gradual disappearance of tail winds such as low energy prices. However, uncertainties from Britain's exit from the EU remained high, he said.
The most recent indicators showed that economic growth in the first quarter of 2017 could have been greater than the 0.7 percent registered in the last quarter of 2016, Linde said.
Recommended Reading :
* IMF raises Spain's 2017 growth forecast to 2.6% as global economy recovers
* Bank of Spain sees price rises easing through 2017