Pensioners miss flight to Spain after being abandoned in Airport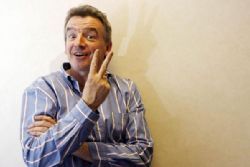 An elderly couple missed their flight to Spain after assistance staff 'forgot' about them - and left them waiting in a Manchester Airport lounge for EIGHT HOURS.
Bernard, 79, and Doreen Crowther, 73, from Saddleworth, have spent months planning their holiday to Spain.
Because Doreen, who is in a wheelchair, has serious medical conditions, including heart problems and diabetes, their family has to carefully ensure they have the support they need at every stage. This included booking help via Ryanair from OCS - the firm which handles passengers in need of assistance at Manchester Airport.
Managers at OCS, which is a separate firm unconnected with the airport, say they are now investigating the complaint.
Stephen, 51, a civil engineer, dropped his parents off at Manchester Airport at 10.30am on Thursday and says he was amazed to find out they were still there eight hours later.
Stephen said: "Because of my mum's medical condition and all her medication this holiday took months of planning. They were in a state as it was.
"My dad kept trying to tell them they needed to go to the gate, and he kept being told to sit back down.
"It's terrible they were left in the lurch like that, stressed and not knowing what to do. It's really upsetting and a nightmare for them."
When Stephen first called OCS on arrival at the airport, he was told they were short-staffed, which meant his wife, Rachel, and Bernard had to lug the suitcases to check-in.
The couple were then taken to the Escape lounge at Manchester Airport, two hours before the Ryanair flight to Murcia was due to take-off.
During their wait, Bernard approached the lounge reception three times to ask if they should be heading to the gate - the second time just 25 minutes before take-off.
Eventually, the receptionist took the couple herself - only to be told by Ryanair they were too late and their luggage was being off-loaded.
The couple were taken to the assistance reception where they then waited for nearly five hours. At around 6pm, a hotel was finally arranged and they were rebooked on a flight on Monday afternoon. But the incident left the couple feeling stressed and unwell.
Dad of five Stephen added: "My mum's blood sugar has shot up. It's really such a big deal for them to fly anyway, it takes so much planning to get them away once a year, so for this to happen is terrible. If she gets no better we may have to rebook for next week and go with them.
"It's a shame because we've always had such a good experience in the past."
An OCS spokesman said the incident was under investigation.
He added: "We are very, very sorry about what happened at the airport and we have apologised to the passengers concerned.
"We have arranged travel for them tomorrow morning first thing, and for them to stay in a hotel tonight."
Recommended Reading :
* Ryanair announce new flights to Spain from Newcastle
* New flights announced North UK - Spain