EU leaders try to clear 'unnecessary irritants' before Brexit talks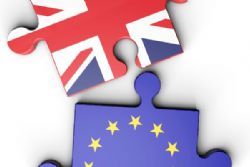 Several EU leaders took advantage of a Brexit summit on Saturday to finalise deals settling various thorny issues as part of a strategy to present a united front ahead of tough negotiations with Britain on its withdrawal from the bloc.
With discussions with Britain due to take place over the next two years, the European Union is aware that maintaining a united front among the 27 remaining members could be difficult.
"Brexit means the 27 need to keep close together. The Commission needs to clear away unnecessary irritants. It is conducive to take all these things away," an EU official said.
Spain and Portugal set the tone, saying they had settled their dispute on the former's planned nuclear dump site at the Almaraz power plant which had raised fears of cross-border environmental risks.
Portugal, which has no nuclear power reactors and is generally distrustful of Spain's seven nuclear-fuelled power plants in January called on the Commission to intervene in the case.
"We have reached agreement on the Almaraz case. Our agreement relies solidly on a set of joint operational conclusions," Spanish Prime Minister Mariano Rajoy, Portuguese premier Antonio Costa and European Commission President Jean-Claude Juncker said in a joint statement.
"This is the European spirit of finding compromises for the smooth functioning of our common Union at its best."
Separately, Slovenia and Croatia, which will have access to the open-border Schengen area by June 27, said they would work together to facilitate cross-border traffic between the two countries.
Slovenian Prime Minister Miro Cerar and his Croatian counterpart Andrej Plenkovic sorted out the issue together with Juncker on the sidelines of the Brexit summit in Brussels.
"Slovenia and Croatia agree they will notify the Commission of the decision to carry out targeted checks whenever the waiting time at specified land border crossing points between the two countries is longer than 15 minutes," the EU executive said in a statement.
Denmark, which will exit Europol on May 1, inked a new deal with the EU's police agency allowing it to exchange operational data and deploy liaison officers.
"Being fully in line with European data protection rules, Denmark will have a unique status which will allow for much closer ties with Europol without amounting to full membership," the Commission said.
Recommended Reading :
* Britons buy fewer houses in Spain after Brexit vote
* Brexit takes its toll on Spanish Property market