Spain suffers most from terrorism with highest number of victims: report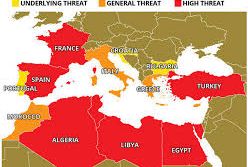 Spain suffered the most from terrorism as it had the highest number of victims of terrorism in the European Union, according to a document presented on Friday.
The document - Black and White Book of Terrorism in Europe - showed that a total of 658 people were killed by terrorist actions in the EU between 2000 and 2016.
Of those 658, 253 were murdered in Spain and 250 in France, it showed.
According to the report, 13.8% of those victims died in suicide attacks. "Jihadism has been the most mortal actor, causing 82.8% of the victims," it said.
That is supported by the fact that 192 of the deaths in Spain were the result of one single attack -- the Atocha train bombings on March 11, 2004.
The majority of the other deaths were down to the actions of Basque separatist group ETA, before the band, which announced a permanent ceasefire in November 2011 and its complete disarmament in April this year, ceased operations.
The document also calculated that 1,029 Europeans died in terrorist attacks outside of the EU, mainly while participating in peacekeeping missions.
The document, widely reported among Spanish media, was presented by the Euro Deputy of the centrist UPyD party, Maite Pagazaurtundua, and Director of the Memorial Center for Victims of Terrorism, Florencio Dominguez.
Recommended Reading :
* ISIS Beach attack threats "Mustn't stop tourism" : Security Expert
* Spain ups airport security after Brussels bombings