Spain jails German who set forest on fire with toilet paper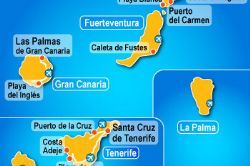 A court in Spain's Canary Islands has sent a 27-year-old German man to prison for 3½ years for causing a massive forest fire that killed one worker last summer.
The man already admitted, when he was detained in July last year, that he accidentally started the blaze by burning his soiled toilet paper. Civil guard agents had found him near the source of the fire in the Atlantic Ocean island of La Palma.
The blaze destroyed nearly 5,000 hectares (12,300 acres) of forest and prompted the evacuation of thousands of residents.
A provincial court in Santa Cruz de Tenerife ruled Friday that the man should also pay 1.8 million euros ($2 million) for the restoration of the affected forest areas and compensate the relatives of the deceased forest worker.
Recommended Reading :
* Valencia will ensure burnt land cannot be rezoned for construction
* Spanish authorities search for arsonists behind Javea fire