How Can British Expats Vote in the General Election ?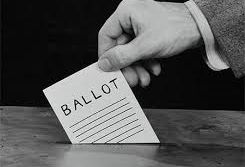 Despite ruling out any chance of an early election, Theresa May surprised the British public with a U-turn decision back in late April. She announced that a snap general election would be taking place on 8th June in light of divisions at Westminster that risked hampering the Brexit negotiations.
Below, British expats can find out all the information they need to know in regards to voting overseas at the UK general election on Thursday 8th June.
Who Can Register as an Overseas Voter ?
If you are a British citizen living abroad you can apply to vote from overseas. For expats who were too young to register when they left the UK, they can do so now. The only stipulation is that a parent or guardian must have been registered to vote in the past 15 years.
Expats who have been registered to vote in the past 15 years will be entitled to vote in the snap election in June.
How to Find Out if You are Already Registered
Brits who live overseas must renew their registration annually. Usually, you will be reminded to do so by your local Electoral Registration office.
If you are unsure about your registration status contact your local authority. Enter your postcode here for the UK address at which you are registered to find the contact details of your local council. They will be able to help you distinguish your current standing.
If Your Registration Has Not Expired
If your registration as an overseas voter will not expire by 8th June you will be able to vote and will not need to register again. This will apply to many who renewed their registration before the EU referendum.
If You Have Already Renewed Your Registration
If your registration does not expire until after 8th June you are currently recorded as an overseas voter and do not need to take any action.
If Your Registration Has Expired
If you are not currently registered to vote you will need to do so by Monday 22nd May. You can register now at gov.uk/register-to-vote.
How to Vote If You Will Not Be in the UK
Understandably, few Brits will make the journey home from their lives overseas to cast their vote. Luckily, there are two voting methods available.
Voting by Proxy
If you are overseas you can appoint somebody to vote on your behalf. Voting by proxy is the preferred option for most expats. Click > HERE < to download the overseas voter proxy application form (PDF).
Voting by Post
You can vote by post if you live abroad. However, you will need to make sure you have allowed ample time for your ballot paper to be posted to the UK and received by 10pm on Thursday 8th June. If you donít think your vote will be received on time, you should opt to vote by proxy. Click > HERE < to download the postal vote application form (PDF).
Recommended reading :
* May calls for early election to strengthen Brexit hand
* Problems faced by Expats seeking dual nationality post-Brexit