Spanish parties to vote on exhumation of dictator Franco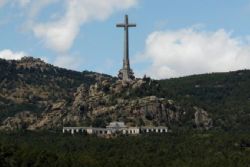 Spain's Congress is expected to approve on Tuesday a motion urging the government to exhume the remains of the dictator Francisco Franco from the massive monument dedicated to his memory.
General Franco governed Spain from 1939 until his death in 1975, when he was buried inside a basilica drilled into the side of a mountain at a site known as the Valley of the Fallen, 60 miles northwest of Madrid.
Republican prisoners, defeated by Franco's troops in the 1936-39 civil war, built the mausoleum, over which towers a 150m stone cross. About 30,000 dead from both sides of the conflict are buried at the site, which is decorated with symbols of Franco's National-Catholic ideology, a Spanish version of fascism.
The Socialist Party has proposed the motion, which calls for the remains to be buried elsewhere and for the site to be transformed "so that it stops being a place of Francoist and National-Catholic memory and becomes a space for a culture of reconciliation, democratic collective memory and dignifies and acknowledges the victims of the civil war and the dictatorship".
The Socialists approved a historical memory law in 2007 which included the removal of symbols of the dictatorship from public spaces. However, its implementation has been uneven, and the conservative Popular Party (PP), which has governed since 2011, opposed the law as needlessly divisive.
Franco regime
The PP, which was founded by former members of the Franco regime, has eliminated subsidies for historical memory associations and on coming to power shelved an experts' report recommending changes to the Valley of the Fallen.
The site, which still draws a steady stream of admirers of the dictator, remains controversial and politically sensitive. However, Spain's newly-fragmented political landscape, which has left the PP without a parliamentary majority, appears to have swung the debate against the government. The leftists of Podemos and the liberal Ciudadanos party are expected to support the Socialists by voting in favour of the motion, along with left-leaning Catalan and Basque nationalists, all of who approved the initiative in a commission in March.
Approval of the motion would only be symbolic, and the government would not have to implement any of the measures, although it would generate substantial pressure for prime minister Mariano Rajoy to act.
Exhumation of bodies
Last year, for the first time, a court authorised the exhumation of bodies from the Valley of the Fallen, allowing the remains of republican brothers Manuel and Antonio Ramiro Lapeña, to be given a "dignified burial" elsewhere, at the request of their family. However, that ruling has still not been implemented.
Meanwhile, a Madrid court has accepted a lawsuit against the satirical TV news show El Intermedio after one of its presenters described the Valley of the Fallen as "that shit" during a broadcast last year.
Recommended Reading :
* Spanish Government fails to remove single Franco era symbol in 5 years
* Argentine court triggers search for Franco era victims in Spain