Santander or Bankia viewed as likely saviors for Spain's Popular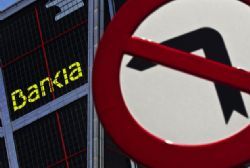 Spain's biggest bank Santander or state-owned lender Bankia are most likely to step in to save troubled Banco Popular, sources familiar with the talks told Reuters, although a deal is still far from guaranteed.
Popular is racing to find a merger partner after Spanish Economy Minister Luis de Guindos closed the door on Thursday to a potential bailout with public money, while a capital increase is facing resistance from the bank's existing shareholders.
Santander, which declined to comment on Popular, is attracted by the bank's strong position in small and medium size company lending, a source close to Santander said, adding that it would probably have to raise cash to finance any bid.
"I see Santander as being really motivated."
Saddled with 37 billion euros of soured property assets, Popular has asked for binding offers by June 10 and aims to close a takeover by the end of next month, the sources said.
The bank lost 3.6 billion euros in 2016 and has undergone 3 leadership shake-ups in less than a year. Its shares have fallen 65% over the past year and are the worst performers on the European STOXX banking index.
Santander, Bankia and BBVA all showed initial interest in Popular in a preliminary round of talks last week.
BBVA, which declined to comment, does not rule out making an offer, but people familiar with its strategy say it sees a takeover deal as highly risky.
It approached Popular with a tentative 1.2 euro per share offer late last year but never formally put forward a bid.
BBVA believes any deal below this price would trigger liabilities of up to 2.5 billion euros, coming on top of restructuring and clean-up costs.
Those liabilities relate to Popular's capital increase in June 2016. Investors who bought into it at 1.25 euro per share could argue they were not given reliable information about the bank's accounts and therefore paid over the odds.
BAD BANK ?
Santander, which hired Citigroup earlier this year to work on a potential Popular deal, would have to raise at least 6 billion euros in a capital increase if it pursues a bid, the source close to the bank said, echoing analyst views.
Popular's final capital shortfall would not be known until a full due diligence has been completed, they added.
Bankia, which also declined to comment, is another strong candidate, the sources said, because it not only has cash but also an excess of capital following its 22 billion euros state bailout in 2012 and a successful turnaround since then.
Although it has not hired any advisers, Bankia could quickly find around 4 billion euros to buy Popular in cash and shares, paving the way for a transfer of part or all of Popular's troubled real estate assets into Spain's bad bank Sareb.
While this would likely meet resistance in Madrid and Brussels, a condition for using the bad bank is to have received public money which would apply to Bankia, but not other bidders.
"(Economy Minister) De Guindos is the one who will call the shots at the end of the day and its clear that he wants Bankia, and possibly Sareb, to be part of the solution," one source familiar with the process said.
The economy ministry declined to comment.
Recommended Reading :
* Spain's Economy Minister says Bankia is looking at Popular merger
* Bank of Spain says structural reforms needed to further reduce deifict