'Difficult, Arrogant, Intolerant': How Moroccans See Spain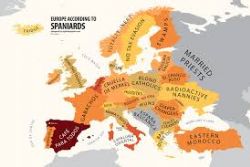 A recent survey by a Spanish think tank finds that Moroccans viewed Spain the most negatively among eleven national groups questioned, seeing their northern neighbor as difficult, arrogant, and intolerant.
Real Instituto Elcano, a Spanish international studies think tank, surveyed participants aged 18-70 from the following nations: Chile, China, Ecuador, France, Germany, Italy, Japan, Morocco, Turkey, the United Kingdom, and the United States.
The study had a total of ten parts. The first asked participants to rate various aspects Spain, such as tourist friendliness, strength of the economy, and safety, from 1-10.
The second tasked participants with choosing which words they most associated with the country. Third, the survey asked participants to choose between two words to describe the country, such as modern versus traditional.
Other parts focused on the Spanish economy, opinion of the king, quality of life, participation in the European Union, Catalonian secession, and other valuations.
Nearly a third of Moroccans found the Spanish to be difficult, arrogant, and intolerant, while a quarter believed that Spain did not inspire confidence.
Furthermore, when asked to rate Spain from 1-10, Moroccans gave Spain the lowest rating, averaging a 5.8.
Moroccans of ages 18-34 and 35-54 rated Spain at a 5.9 and 5.7, respectively.
Older Moroccans, aged 55-70, on averaged rated Spain a 6.9, demonstrating a dramatic shift between how generations perceive the country. When asked whether they believed Spain was a country that participated in missions to maintain peace, Moroccans gave Spain a mere 5.4, the lowest rating the country received for this metric.The average Spanish rating was a 7.1, on par with the United States.
Moroccans tested very differently than their American, European, or Asian counterparts, as they were more likely to associate Spain with a shared history, culture, and religious background, while participants from more distant countries cited more stereotypical features like the sun, bullfighting, and flamenco dancing.
Moroccans were not the only group to have somewhat negative views towards Spain. 63% percent of residents of France and Germany stated that they perceived Spain to be a poor country, while over 30% of Chileans rated it as corrupt. Furthermore, over 50% of Japanese participants considered the Spanish to be lazy.
The study demonstrates that relations between the citizens of the two countries, despite improving in recent years, remains tenuous.
Recommended Reading :
* Spain falls to worst position in perceptions of corruption index
* Spain ranks as 7th rich country with least confidence in politicians