25% of Romanians working legally in Spain employed in agriculture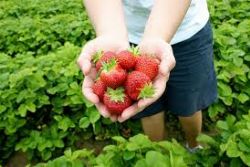 About 65,000 of the 320,000 Romanians working legally in Spain are working in agriculture, TVR reported.
Many of them work at strawberry farms in the Huelva region of Spain, in cities such as Lepe, Moguer or Palos de la Frontera. Some 14,000 Romanians live in Huelva, attracted by the prospect of a job better paid than in their country. A fruit picking job pays EUR 38 a day for six and a half hours of labor.
Meanwhile, Romanian agriculture employers have a tough time finding workers. Romania's villages are characterized by a strong aging and migration trend, especially among young people.
The government announced this year that companies that hire at least three people under 35 in agriculture, aquaculture or the food industry will be exempt from paying all the obligations to the state related to the new employees' wages, namely taxes and social and health contributions.
Recommended Reading :
* 1.5 Million plus Expats contribute to Spain's Social Security