Taxi Drivers Across Spain Strike over Ride Sharing Uber and Cabify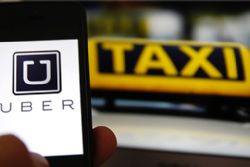 Taxi drivers across Spain are on strike today in protest over unfair competition from ride sharing companies such as Uber and Cabify.
Protests were expected to last around 12-hours in Madrid between 6am – 6pm today, while in Barcelona, drivers are striking for at least 24 hours until Wednesday morning.
Taxi drivers in larger cities across the country are taking similar strike action. In Valencia, drivers called a 2-hour strike.
Travellers into airports and train stations were forced to seek alternative means of transport including public buses as no taxis were available.
Ironically, several travellers turned to ride-sharing apps in order to get around, some for the first time. The very applications and companies taxi drivers are protesting about.
In the last few years, taxi drivers have taken strike action on numerous occasions as well as staging several protests, most notably bringing the cities of Madrid and Barcelona to a standstill by blocking roads with their vehicles.
Spain has repeatedly tried to ban ride-sharing apps Uber and Cabify. In 2014, a court case brought by traditional taxi drivers forced Uber to cease operating in Spain after a judge ruled its Uberpop service risked breaking the law.
However, in 2016 Uber introduced its UberX service into the Spanish market which uses licensed, professional drivers instead of amateur drivers. The company does not employ drivers or own any vehicles. Instead, Uber uses private contractors with their own vehicles, effectively allowing them to run their own businesses.
Traditional taxi drivers must undergo hundreds of hours of training in order to gain their licences as well as ongoing testing and inspections. Drivers have complained that Uber are endangering their jobs since ride-sharing app drivers are generally cheaper given they are not subject to the same regulations and costs.
Ride-sharing companies have repeatedly stated traditional taxi drivers have to modernise their services if they want to compete.
But, in some positive news from the EU, Advocate General Maciej Szpunar said "The Uber electronic platform, whilst innovative, falls within the field of transport" in a statement from the European Court of Justice.
However, the popularity, convenience and overall competitiveness of ride-sharing companies can be directly attributed to their customers who are driving the success of these businesses, yet traditional taxi drivers relentlessly seek to ban them instead of forcing local authorities to reduce licensing costs and regulations they are governed by.
Recommended Reading
• Uber launches first electric car fleet in Madrid
• Uber resumes operations with licensed drivers
• Taxi drivers block Madrid with Uber protest