Top Spanish Anti-Corruption Prosecutor Quits Over Panama Link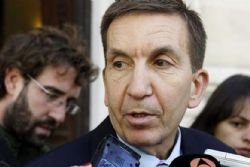 Spain's top anti-corruption prosecutor has quit amid allegations of interfering in corruption investigations as well as owning a stake in an offshore company in Panama.
Citing personal reasons, Manuel Moix stepped down on Thursday after it emerged he has a stake in a company in the Central American tax haven.
Moix had endured weeks of pressure by socialists PSOE, which argued he was "unfit to pursue corruption" given his interest in Panama, but said his resignation had come too late.
Public prosecutor, José Manuel Maza, said Moix had resigned even though there was no suggestion "of any irregular or illegal behaviour" on his part. During his brief tenure, controversy wasn't far behind, including alleged attempts to interfere in corruption investigations involving the governing People's party (PP).
PSOE leader Pedro Sánchez said Maza was forced out by intense "media pressure and public opinion" adding the decisions of the prime minister, Mariano Rajoy, who leads the PP, were "seriously damaging the health of our democratic system".
Rather more vociferously, Pablo Iglesias, leader of the anti-austerity Podemos party, said "offshore ministers and prosecutors who corrode democracy and are parasites on institutions" needed to be thrown out of office.
The now infamous Panama Papers, a serious of leaked documents from law firm Mossack Fonseca, have claimed the heads of a number of high profile politicians across the globe.
In 2016, Industry, Energy and Tourism minister, José Manuel Soria, resigned after alleged links to offshore dealings emerged in the Panama Papers. Soria denied any wrongdoing, but said he was stepping down to limit damage to the PP.
Appointed in February, Moix has been accused of trying to "hinder" an investigation into fraud involving senior PP members in the Madrid region.
Despite insisting he had done nothing wrong, opposition parties had been vocal in their calls for him to step down.
The departure of Moix will be a bloody nose for PM Mariano Rajoy, who himself is due in court as a witness in the long running Gürtel case. The case centres on allegations of a "kickbacks-for-contracts scheme" involving businessmen and several senior PP members.
Left wing political party, Podemos, is pilling pressure on Rajoy over the recent wave of corruption allegation engulfing the ruling People's Party.
Podemos are due to table a motion of "no confidence" against the PP. The motion is not expected to get the backing of parliament with critics dismissing the motion as little more than a stunt.
However, Iglesias is adamant the PP has crossed red lines and risked jeopardising the rule of law.
Speaking in May, Iglesias said "The anti-corruption prosecutor is trying to do the opposite of fighting corruption; he's trying to stop prosecutors who are fighting corruption from doing their job,"
"It means that the People's party is behaving like a parasite when it comes to institutions; it's not just looting them to get richer, it's also risking citizens' safety by trying to ensure that the police, the Guardia civil, judges and prosecutors don't go after people who are corrupt."