Crackdown on Food Poisoning Scams In Spain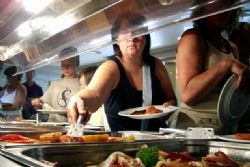 BRISTISH TOURISTS are being warned they could face prosecution over fraudulent claims for food poisoning in a crackdown on the increasingly prevalent scam.
The scam centres on tourists who have stayed or are staying in ALL-INCLUSIVE hotels, where unscrupulous claims management companies target individuals to make compensation claims against hotels.
Usually, representatives of these companies linger around hotels and encourage guests to file a complaint. In some cases, allegedly, representatives have even encouraged guests to exaggerate their symptoms and claims.
"They encourage people to submit claims by saying that they are 'entitled' to compensation if they've been ill on one of these holidays, often coaching people into what to say" an Association of British Travel Agents (ABTA) spokesman said, adding "This risks causing severe damage to the reputation of UK holidaymakers overseas as we are the only nationality to submit false or exaggerated claims in any significant numbers."
But Spanish hoteliers are furious over the growing number of claims which they say cost the industry approximately €60m in 2016.
The Spanish hotel owners association, CEHAT, said the number of false claims being made for stomach complains have soared over the last 12 months with Mallorca reporting a 700% rise alone.
CEHAT estimates around 90% of claims made by tourists, targeted by claims management companies, are fraudulent.
"Medical evidence of illness is seldom needed to make an insurance claim" said CEHAT, yet "Twelve months after the first incidents of fraudulent claims were detected, no measures whatsoever have been put in place to reduce the number of cases. If anything, it's been the other way round and businesses are saying enough is enough".
CEHAT has said it will pursue prosecution against anyone involved in the scam.
If the number of claims were indeed genuine, a "worldwide health alert would have been declared" stated CEHAT.
However, the problems don't just end with compensation payouts. The effects run far deeper. Accommodation prices could be forced to rise, but there is also the very real threat to jobs and the wider supply chain who rely on the tourist industry for their income.
Tourism is Spain's biggest export. In 2016, there were a record 75 million visitors to Spain. A record set to be broken in 2017. Year on year, tourist figures to Spain are broken almost every year compared to the previous.
The largest group of tourists by nationality are British, which is where the largest number of fraudulent claims are being detected. A worrying trend, which is damaging the reputation of British tourists in Spain.
Earlier this year, hoteliers in Mallorca threatened to BAN British tourists amid fears of being stung by the scam and the rising cost of compensation payouts.
ABTA has advised anyone who is approached by a claims company representative in a resort should tell the hotel management. If approached back in the UK through social media or on the phone and encouraged to lie or exaggerate their experiences, people should report them to the police.
"Prosecution both here and overseas, if you put in a false or exaggerated claim, is a very real possibility as police forces will view this as a priority, particularly in countries where tourism is an important sector for their economy" ABTA said.