Spain at Forefront of EU Jihadist Counter-Terrorism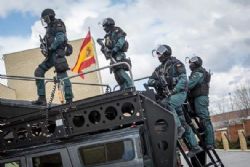 SPAIN has positioned itself at the forefront of EU efforts to thwart Jihadist terrorism as new investment and resources are announced.
Ever since the devastating Atocha commuter train attacks in Madrid by an Al-Qaeda inspired cell, in which 190 people died, a silent "army" of more than 3,000 officers from the security forces, spies, prosecutors, judges and analysts are working in the shadows in order to avoid another attack.
According to confidential information obtained by El Pais, there are currently, more than a thousand people are on the radar of the Spanish police, while 259 people are being investigated by the courts and 500 telephones are being tapped as part of dozens of investigations.
Such is the task to protect Spain and its citizens, all security agencies, despite their best efforts report another attack is inevitable.
However, counter-terrorism resources have just received a boost with Deputy Prime Minister Soraya Sáenz de Santamaría announcing 600 new officers will be recruited up to 2020 to combat jihadism alone.
Madrid, Barcelona, Ceuta and Melilla are considered to be the most dangerous cities in Spain, given that a total of 150 combatants who have travelled to Syria live there.
However, local police chiefs are keen to play down the risks in Ceuta and Melilla pointing out that radicalisation and xenophobia has not taken hold.
Intelligence reports warn of possible targets in busy areas of Madrid and Barcelona with summer music concerts and festivals of particular concern.
It also worth noting that Spain is a major transport hub with the rest of Europe from North Africa. French-Moroccans travel through Spain to reach France or Morocco.
North African migrant workers and refuges move north through Spain, into France with many hoping to eventually reach the shores of the UK.
Yet, despite the proximity to, and disputed territories in North Africa as well as the flood of French-Moroccans travelling through it, Spain has succeeded relatively well in thwarting potential attacks both at home and across Europe, despite being firmly in the crosshairs.
Major Jihadist recruiters have been arrested and jailed, returning combatants from Syria and Afghanistan have been rounded up and communities have come together and exposed anyone they feel has extremist tendencies.
In Melilla, there are five different security services operating in the 12km North African, Spanish enclave - the CNI (National Intelligence Centre), the National Police, the Guardia Civil, the Moroccan General Directorate for Territorial Surveillance (DST) and Israel's Mossad.
Spain's Muslim community, praises the actions of the police, but is calling for more measures. "The police are doing things well, with recruitment slowing down," says Laarbi Mateis, the secretary of the Islamic Commission in Ceuta. "But all of the efforts are related to security and not to education. We need social measures."
Counter-terrorism, especially Jihadist counter-terrorism, is the fasted growing defence expenditure and resourced sector across the western-world. More so in the wake of the Manchester concert bombing.
But intelligence and cooperation is critical and Spain is making a notable impact in its ongoing efforts to protect its citizens at home and abroad as well as visitors and tourists.