Dockworkers Strike in Spain over EU Rules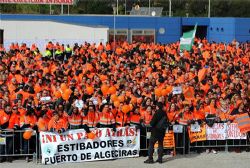 Dockworkers in Spain began a 3-day strike earlier today in protest over job losses and reforms aimed at bringing them in line with EU rules and regulations.
The changes imposed by the EU are meant to liberalise the working practises of the industry, which for decades has been dominated through a monopoly by a workers' association on who gets employed to load and unload cargo at the country's 46 ports.
In May, the Spanish Parliament passed a bill to reign in the monopoly and its restrictive practices, but also head off steep fines from the EU for non-compliance.
Ports in Spain handle approximately 86 percent of import and roughly 60 percent of exports, which through strike actions, are likely to have a dramatic and noticeable impact on the economy.
Spain has been locked in deep negotiations with the EU for sometime over its failure to bring the national budget deficit within EU limits. It has TWICE avoided financial penalties for non-compliance.
Despite this, Spain had been on track to once again grow its economy this year, more so than last, but also bring its deficit closer to EU requirements. However, it maybe some time yet before the full effects of the strike action on the economy are fully known.