Santander Rescues Failing Banco Popular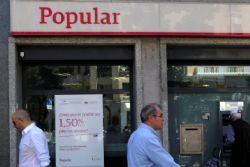 Following a last minute bid, struggling Banco Popular is to be rescued by Spainís largest bank, Santander.
Banco Popular, Spainís 6th largest bank, has been teetering on the brink of collapse for several years since the global financial crisis exploded in 2008.
The bank has long struggled and repeatedly asked shareholders for fresh money.
However, in recent weeks, problems within the banking institution were compounded further by an acceleration in the withdrawal of banking deposits.
As a result, the European Central Bank declared that Banco Popular was set to be wound down. A move by the EU institution which marks the first use of a new regime to deal with failing banks adopted after the financial crisis.
Instead of falling back on tax-payer backed guarantees, shareholders and creditors would bear the brunt. Certain bond holders suffered losses of approximately Ä2bn, while shareholders lost everything. Senior bondholders were spared.
In a statement, the ECB said "significant deterioration of the liquidity situation of the bank in recent days" was to blame for the demise of Banco Popular, adding that it "would have, in the near future, been unable to pay its debts or other liabilities."
Santander will acquire Banco Popular for a nominal ONE EURO sum.
To cover the cost of bolstering Popular and its solvency, Santander will ask its investors for around 7 billion euros ($7.9 billion) of fresh capital. Banco Popular has been weighed down by 37 billion Euros of non-performing property assets.
However, Santander sees opportunity in the acquisition of Banco Popular though its small and medium-sized company loan portfolio. A growing market, for which Popular has the largest among Spanish lenders.
Luis de Guindos, Spainís Economy Minister, said Santander's takeover was a good outcome for Popular given its situation in recent weeks and it would have no impact on public resources or on other banks.
Santander Chairwoman Ana Botin said "We welcome Banco Popular customers"