Brexit Turmoil Following UK Elections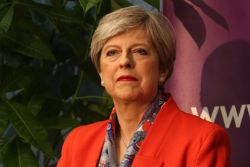 Brexit negotiations were thrown into turmoil yesterday following an inconclusive general election in the UK.
Conservative Prime Minister Theresa May had been riding high in the polls with a double digit lead over Labour and was widely expected to win a landslide victory and increase her majority in the House of Commons.
However, a resurgent Labour, led by old school socialist Jeremy Corbon, and a disastrous campaign from the Conservatives, Labour managed to close the gap and steal many key constituency seats from the Conservatives.
The Conservatives emerged as the winners from the election, winning 318 seats, but leaving them 8 seats short of the 326 seats needed to have a majority and 13 seats less than they had before the election. Labour won 262 seats.
Theresa May now needs to find support from other parties to secure another term in Government, likely to come from the DUP, a pro-UK, anti-Europe political party in Northern Ireland. The DUP are keen to see the UK split from the EU and campaigned hard for Brexit during the EU referendum.
Yet, until Friday morning, the UK appeared to have a very strong Brexit hand to play. Theresa May repeatedly said "no deal is better than a bad deal", indicating to opponents she intended to lead the UK out of the EU with a "hard Brexit" – Whatever that means.
But, with Mrs May's government effectively crippled following the election, the UK's previous swagger of confidence, British Bull Dog spirit and hard-line rhetoric over EU negotiations has been massively subdued and any decent deal from the EU, will now largely rest upon the generosity of the remaining 27 EU nations - And staunch Brexiteers are livid.
The clock is ticking on the UK's departure from the EU, TWO years from the triggering of article 50.
Brexiteers were boasting that the UK would be "free from the shackles of the sinking EU ship" and looking forward to 2019 when the clock finally runs out.
The likelihood of a "soft Brexit", whatever that means, is now a very real possibility. Britain would be out of the EU, but highly likely to remain within the European Economic Area.
Membership of the EEA requires free movement of people and capital as well as compliance with all the rules and regulations handed down from Brussels, but with no seat at the big EU table where all decisions are made.
In any event, the expected departure of the UK from the EU, scheduled for 2019 is looking less and less likely. Any extension to this deadline would have to be approved by the other 27 EU nations.
But European leaders know Mrs May has emerged from the elections much weaker and leaving Brits more divided now over Europe than ever before. An opportunity for the EU, too big to miss, at keeping the UK within the EU.