High Speed Sub-Aquatic Internet Links US and Spain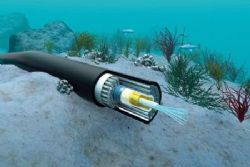 A NEW 6,600 km undersea fibre-optic network is to connect Virginia, US, and Spain as part of an ongoing partnership between Microsoft and Facebook.
Operating 16 million times faster than a standard home internet connection, the MAREA partnership aims to meet growing customer demand for high-speed online cloud computing and strengthen the trans-Atlantic network.
Frank Rey, the head of Global Network Acquisition at Microsoft Cloud Infrastructure and Operation says: "It will also be the first to connect the United States to southern Europe: from Virginia Beach to Bilbao, and then beyond to network hubs in Europe, Africa, the Middle East and Asia."
After gaining approval from the Federal Communications Commission (FCC) in the US, and the Environment Ministry in Spain, MAREA has acquired a 25 year operating license.
Telxius, a subdivision of Telefonica, will have to pay the Spanish state an approximate total of €1m in order to spread the cable across public land and sea.
The new cable will bring high-speed internet to a large portion of the Spanish population, as the world continues to demand a faster connection. "Microsoft is committed to building out the unprecedented level of global infrastructure required to support even faster and even more resilient connections to our cloud services," says Rey.
"This marks an important new step in building the next generation infrastructure of the internet."
Recommended Reading
• Facebook and Microsft partnership to bring high speed transatlantic internet link
• Spain jumps 6 places in internet speed rankings
• Sky NOW TV to launch from September in Spain