Spanish parliament debates no-confidence motion against PM Rajoy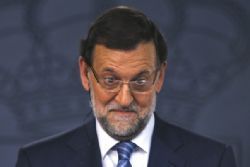 Spain's parliament on Tuesday began to debate a no-confidence motion against PM Mariano Rajoy after corruption scandals linked to his ruling People's Party.
The motion, filed by anti-austerity party Podemos, is not expected to win the support of the absolute majority of lawmakers needed to force out Rajoy, who won re-election last year and leads a minority government.
Podemos, which took around a fifth of the vote in last year's two elections, says the motion is a rally against the PP's alleged use of public coffers and institutions to defend its own interests to the detriment of the electorate.
"Spain is fed up with your theft, and democracy demands a change," Podemos's parliamentary speaker, Irene Montero, told lawmakers.
"Corruption has a headquarters and it is at Genova 13," she said, referring to the address of the PP's party base in Madrid.
Dozens of PP members - including former economy minister and IMF chief Rodrigo Rato - have been implicated in graft cases, which opposition parties say shows entrenched corruption.
Rajoy has been called to testify as a witness at a trial of PP members including former party treasurer Luis Barcenas on July 26 following a long investigation into an alleged party slush fund. He has not been accused of any wrongdoing.
The PP denies that any senior party officials were involved in cases of corruption. It says only a tiny number of its politicians are corrupt and that it is tackling the problem.
The vote is a direct challenge to the Socialist party, whose place in Spanish politics as the traditional left-wing opposition Podemos hopes to seize. The Socialists enabled Rajoy's re-election last October after 10 months of deadlock by abstaining in a parliamentary vote.
Recommended Reading :
* PM calls secret plan for independence 'intolerable blackmail'
* Spain's PM sees no threat of early elections after Socialist vote