Spain's market regulator to investigate trades before Popular rescue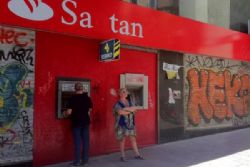 Spain's market regulator is investigating if there is proof of insider trading in Banco Popular in the lead up to its bailout by Santander, president of the CNMV Sebastian Albella told financial newspaper Expansion.
"We will investigate if, in the days before the intervention in Banco Popular, there was privileged use of information and manipulations in the stock market," Albella said in an interview published on Wednesday.
Popular was taken over by Spain's largest bank Santander in early June, for the symbolic price of one euro, after European authorities stepped in to prevent its collapse.
Popular shares dropped almost 60 percent in its last month of trading in the lead up to Santander's acquisition on June 7.
Albella said the investigation would concentrate on moves on the stock market in the run up to the rescue.
Deposit flight from Popular in the weeks before its rescue has also led to calls for an investigation, though Albella noted that it wasn't within the CNMV's responsibility to investigate the withdrawals.
European Central Bank supervisor Daniele Nouy was questioned in the European Parliament's economic affairs committee on Monday over a withdrawal of deposits from Popular by local and regional authorities. Economy Minister Luis de Guindos said on Tuesday that some institutional depositors withdrew their money from the bank after a credit rating downgrade.
A spokeswoman for CNMV confirmed Albella's remarks to Expansion.
Recommended Reading :
* Spain court dismisses former Banco Popular Chairman's severance claim
* Santander rescues failing Banco Popular