Euro zone v Britain : strong and stable, weak and wobbly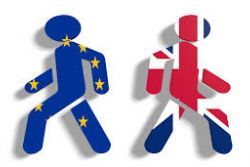 Britain and the euro zone are on such different economic paths as they move on with their divorce proceedings, London probably wishes it had done a pre-nup.
While Britain's economy is showing all kinds of strain - as underlined starkly on Tuesday by Bank of England Governor Mark Carney - the 19-member single currency area is more buoyant that it has been in years.
This also was made clear on Tuesday with a bullish upgrade for German growth from one of its main economic research institutes, Ifo.
Amusingly, Ifo's press release noted Germany's economy is "strong and stable", echoing PM Theresa May's campaign mantra for a June 8 election which backfired on her by depriving her of a parliamentary majority.
Instead of matching its stereotype of a lagging, moribund growth engine, the euro zone - the EU's core - is now being hailed as relatively dynamic.
Brian Coulton, chief economist at Fitch Ratings, noted as much late on Monday when his firm significantly upgraded its 2017 euro zone growth forecast to 2.0% from 1.7%, leaving it just a tad behind the United States.
"Stronger incoming data, improving external demand and greater confidence that (European Central Bank policy) is gaining traction on activity have resulted in (our) upward revision," he said.
Britain, by contrast, was seen by Fitch growing 1.5% this year, down from 1.8% last year and 2.1% in pre-Brexit vote 2015.
The fall in the value of the pound after the Brexit referendum has pushed up inflation and hit consumer spending in Britain, taking it from being one of the fastest-growing economies among the Group of 7 nations in 2016 to its slowest in early 2017.
The BoE's Carney in a speech on Tuesday made no bones about his view of the danger to Britain's economy from Brexit, saying firmly that now was not the time to raise interest rates even if inflation was at 2.9%.
He also took at dig at leading Brexit advocate Boris Johnson, now foreign minister, who once said Britain could have its cake and eat it outside the EU.
"Before long, we will all begin to find out the extent to which Brexit is a gentle stroll along a smooth path to a land of cake and consumption," he said, then added :
"Monetary policy cannot prevent the weaker real income growth likely to accompany the transition to new trading arrangements with the EU."
EUROPE REDUX
Some of Britain's woes will be based on uncertainty about what kind of Brexit it will have. The lucrative trade deals promised by Brexit advocates, for example, may well come but they are a long way off.
There is appears little such uncertainty in the rest of Europe, however.
In its latest forecast, Ifo said the upturn in the German economy that began in 2013 is becoming broader and gaining impetus - a key for Europe as a whole given Germany's dominant economic role.
It also indicated that it did not expect Germany to suffer from Brexit.
"An exit plan should emerge early on without any major negative effects on the economic interdependence between the EU and Britain," said Timo Wollmershaeuser, Ifo's head of economic research.
But it is not all Germany. Spain said on Tuesday it planned to raise its 2017 GDP growth forecast upwards from the current 2.7%. The Bank of France has also raised it forecast to 1.6% and manufacturing surveys are relatively bullish.
Problems remain of course - with Italy, in particular - but the overall outlook is upbeat, adding strength to one side in the great Brexit divorce.
Recommended Reading :
* EU and UK Citizens should not fret over Brexit future
* Brexit turmoil following UK elections